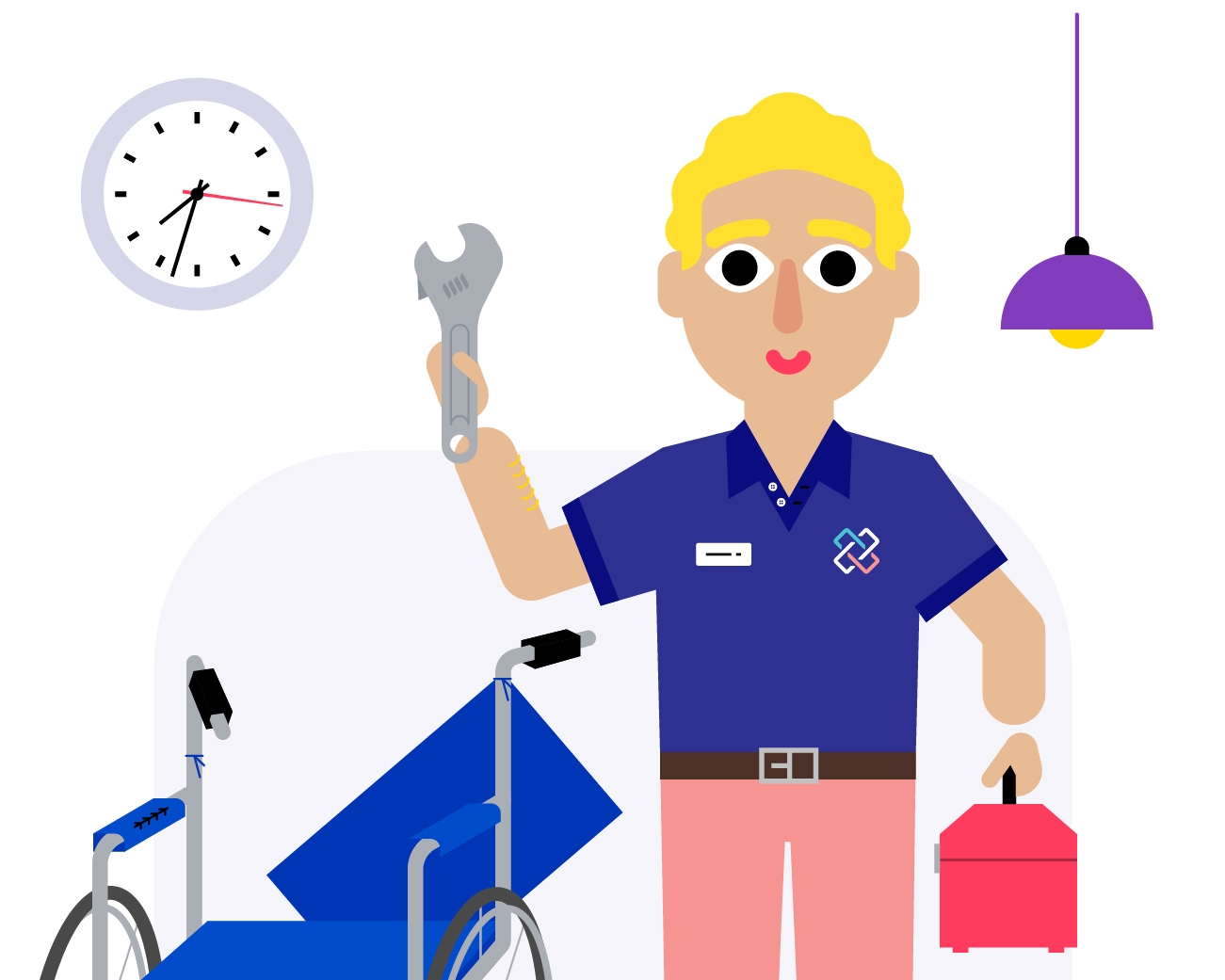 Equipment Maintenance
At Keystone Healthcare, we understand the importance of having your equipment operating safely and kept in optimal condition.
Our technicians specialise in healthcare equipment technology and can provide regular servicing and repairs.
Maintenance
Keeping equipment operating safely.
Healthcare Equipment Maintenance and Repair
Helping you maximise the lifespan of your investment.
At Keystone Healthcare, we understand the vital importance of having your equipment operating safely and kept in optimal condition.
The repair and maintenance programs we offer are designed with convenience in mind, but with no compromise on quality. Our specialist technicians are experts in healthcare technology and provide regular servicing and repairs of all major healthcare safety products. By stocking a wide range of spare parts, we ensure the turnaround is fast, smooth and with minimal impact on the regular operation of the equipment.
In short, we give our clients peace of mind by ensuring equipment works exactly as it should.
Preventative Maintenance Program
Whether you rent or buy, the condition of your equipment is vital to optimising patient care. Our Preventative Maintenance Program means that Keystone Healthcare takes complete control of the equipment cleaning and maintenance. Scheduled cleaning and repairs are a cost-effective and convenient way of avoiding expensive breakdowns, while ensuring optimal patient care.
Mattress Audits
Healthcare providers know all too well the therapeutic benefits provided to patients by a quality mattress.
The constant use and cleaning of hospital or care mattresses can severely reduce the functionality and lifespan of a mattress. As a result, patient comfort is compromised when they need it the most.
Our mattress audit will review each mattress and identify how much quality use is remaining, highlight areas that need maintenance, and provide advice on prolonging your investment's value for as long as reasonably possible. Where necessary, our expert technicians can recommend the right mattress to replace your worn out ones. This simultaneously benefits patients as well as helping to budget for future expenditure.
Why Choose Keystone Healthcare?
Keystone Healthcare takes pride in the performance of its team and its complete dedication to achieving the maximum possible performance of our customers' equipment.
'Hands-off' service – we pick up, launder, repair, return, and reinstall equipment for you.
Reduced downtime and maximised lifespan of your equipment.
Fast and easy online booking through our VRM Online Portal 24/7.
All equipment complies with Australian regulatory requirements.
We service and repair all equipment – even products we don't sell.
Our service plans are tailored to meet the needs of your facility.
Enjoy peace of mind your equipment is safe and up-to-code.
How to Book a Service or Repair?
Our online portal allows quick and easy booking for all your maintenance needs. Simply log into your account and book at your convenience.
To establish a regular servicing schedule, speak with a member of our friendly and knowledgeable support team. We'll assess your needs and work out a suitable maintenance schedule that keeps you legally compliant and helps you maximise the lifetime value of your equipment.
Maintenance
Keystone services and repairs all equipment that we rent to our clients. In addition to this we are able to provide servicing and repairs to clients that purchase our equipment.
We keep a wide range of spare parts in stock, so we can perform all maintenance and repairs quickly. We strive to provide a smooth process with minimal downtime for the affected equipment.
Our preventative Maintenance Program lets you rest assured that your equipment is looked after without the hassle of doing it yourself.
We offer a full service maintenance the helps you avoid the hassle and expense of costly breakdowns.
Our team will periodically visit your facility and pick up the equipment scheduled for maintenance, perform the necessary cleaning and repairs, as well as return it within days.
On-site testing
We are also able to undertake quality assurance testing of equipment such as lifters, trolleys and patient mobility devices. Our team are able to do this on site at your facility, a full report is provide to outline the testing processes undertaken and identify any maintenance and/or repairs necessary to keep the equipment is working order.
This provides peace of mind knowing that your equipment is properly maintained and adheres to Australian safety standards.
Our online portal allows you to quickly and easily book equipment repair and maintenance 24 hours a day, 7 days a week.
Frequently asked questions.
If we purchase equipment will it still be maintained?
Keystone can include a maintenance agreement with the purchase of equipment to periodically test, clean and maintain equipment. This will need to be specifically agreed prior to purchase.
What tests are performed on equipment that is tested on-site?
Depending on the items being tested, this may include weight bearing tests, checking all moving parts are in good working order, that any soft furnishing is hygienic and not cracked, torn or broken which would lead to excess bacteria building up.
Why is maintenance important for pressure care and falls prevention equipment?
Our air mattresses and falls prevention alarms have a number of different settings and moving parts. We have found that when facilities purchase them, they do not always have the expertise to repair and clean them adequately. In addition, there are a number of moving parts and at times these need to be replaced eg. batteries, pumps, leads etc. As a result the useful life of the equipment is shortened and facilities do not receive the value in using the equipment consistently – they are often found broken or not used in a store room.