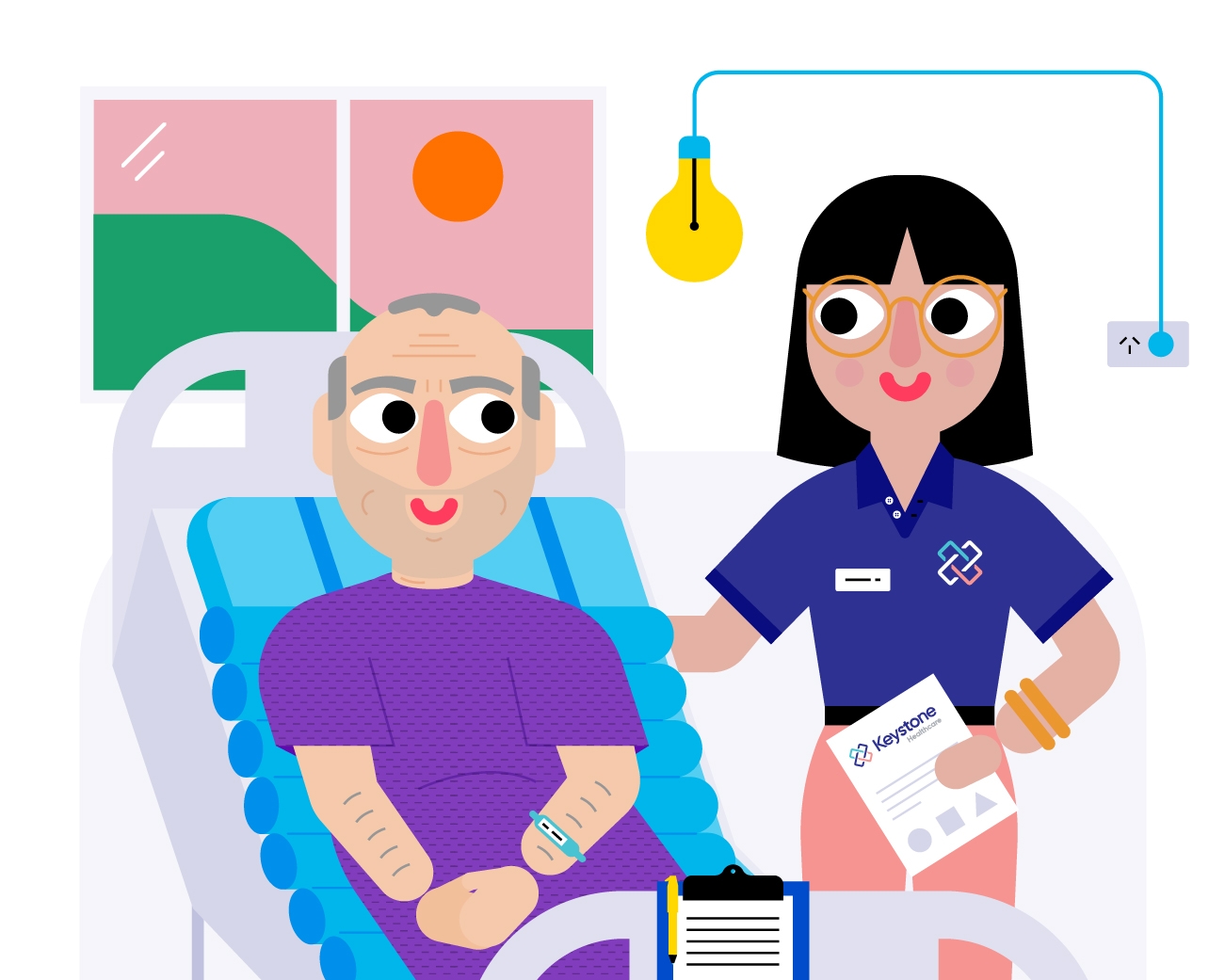 Pressure Care Equipment
500,000 individuals are affected by pressure related injuries every single day in Australia.
This equates to a cost of around $3 billion annually. At Keystone Healthcare, we've found that the majority of these injuries can be prevented with our innovative, dynamic pressure care solutions.
Pressure Care Equipment
Reducing pressure injuries with innovative solutions.
Frequently asked questions.
Why is pressure care equipment needed?
Despite many advances in pressure injury prevention solutions, pressure injuries still affect a large percentage of patients in care environments.
The overwhelming majority of these injuries can be prevented with the right equipment. Pressure sores occur when constant pressure or friction damages the skin. The elderly are particularly susceptible to this type of injury, although it can occur in anyone who is confined to bed for prolonged periods of time. Pressure injuries are painful, negatively affecting a patient's wellbeing and recovery. At their worst, they can cause permanent disability or even death.
Pressure sores can develop quickly in people with reduced mobility, can be difficult to treat, and can exacerbate the risk of infection particularly in patients with compromised immune systems. To avoid pressure injuries and the serious complications that can arise from them, it's important for care providers to offer the right pressure care solutions to keep patients safe and comfortable.
What solutions are available?
Keystone Health Solutions offer a range of flexible and effective pressure care solutions. We provide both in-bed and in-chair support for patients of all ages and sizes.
In-Bed Support - Our foam and alternating air pressure mattresses support the prevention and treatment of pressure injuries. They work by reducing the pressure on the patient's body, acting to mimic the natural movement of the body that would occur to relieve pressure naturally in an able bodied person.
Keystone's mattresses can operate both manually and on an automatic schedule, so healthcare providers can trust that their patients are taken care of – even when they cannot attend to them for any period of time.
Our in-bed support offers supportive care for patients of all shapes and sizes including bariatric patients.
In-Chair Support - Pressure relief is required when the patient is both awake and asleep. Even while sitting, patients still need to move periodically to reduce their risk of pressure ulcers and sores. Our out-of-bed support cushions can be used in chairs to provide periodic relief to targeted areas.
They use controlled air to change the pressure on lower limbs, thus reducing their risk of developing a pressure injury.
Our in-bed and in-chair equipment act as an overall pressure solution that keeps your patients as safe and comfortable as possible.
How to book pressure care equipment and/or advice?
Keystone Healthcare offer affordable and convenient solutions for fall prevention. Whether you are a hospital, small facility, or private home, we can match our equipment to meet your needs.
Get in touch with us on 1300 547 877 or email us contact@khsupplies.com.au for an obligation-free discussion. Our highly experienced staff will assess your facility's needs and organise a tailored solution to meet your requirements.
What are the benefits of using pressure care equipment?
Our mattresses are designed to enhance both patient and staff wellbeing
Easily change a patient's posture with the press of a button
Perform nursing procedures such as dressing changes with no lifting or moving
Switch between modes that automatically cycle your patient's weight
State-of-the-art mattress coverings reduce risk of infection
What we offer
Our pressure care solutions.