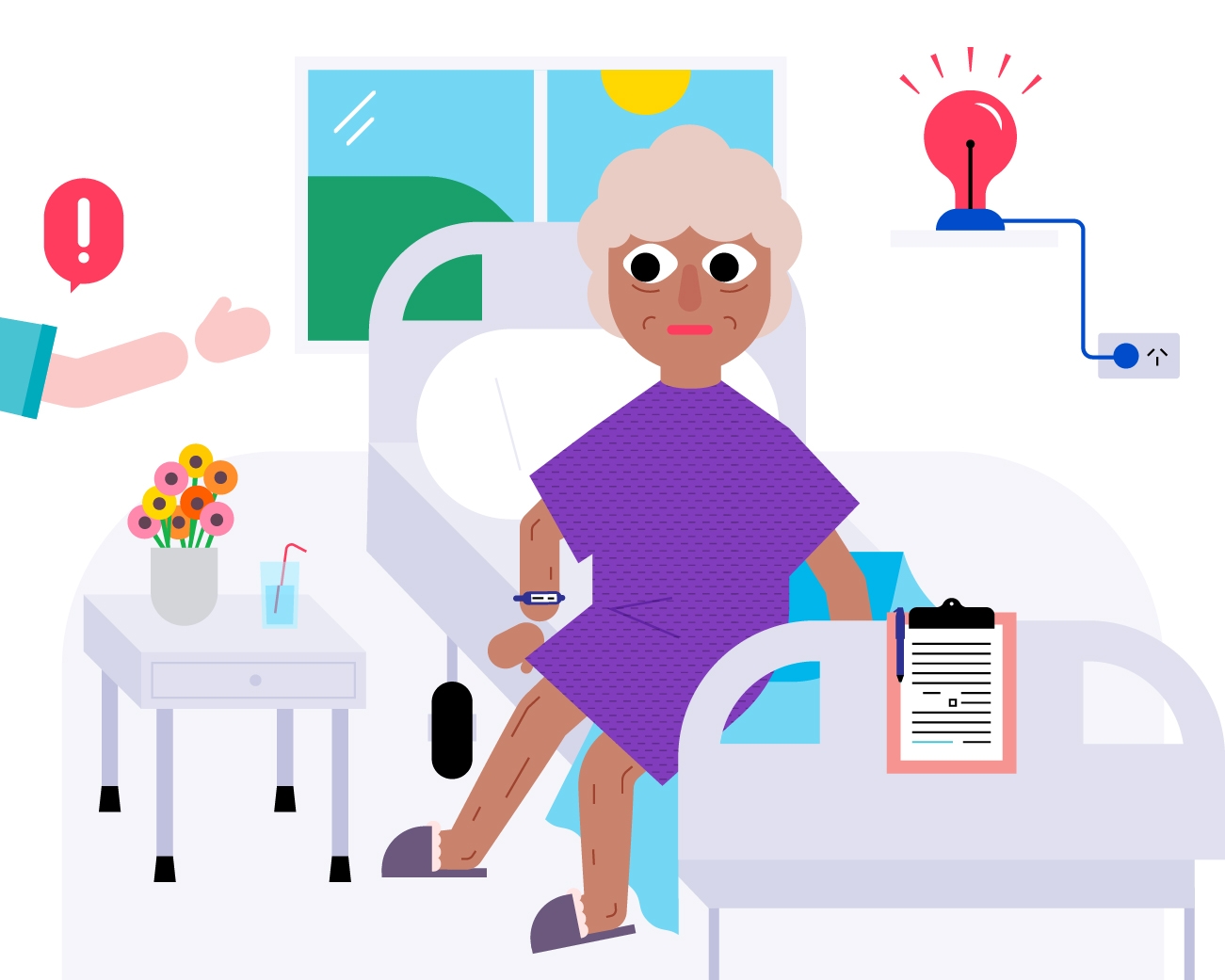 Falls Prevention Equipment
4% of hospital admissions are a result of a fall within care or at home.
At Keystone Healthcare, we understand the importance of falls prevention equipment and the integral role it plays in reducing injury, minimising both physical and legal risks, and protecting the wellbeing of patients.
Falls Prevention Equipment
Minimising risk with falls prevention solutions.
Frequently asked questions.
What solutions does Keystone Healthcare offer?
Fall Alarms
Our fall alarms allow you to detect patient movement, acting as a vigilant observer for caregivers and nurses. They can be installed on beds, chairs and pressure-relieving devices, whilst being durable enough to withstand hospital cleaning regimes. The fall alarms include multiple monitoring systems with a dedicated paging system to reduce device fatigue. They are all Australian-made with a two-year Manufacturer's Warranty.
Roll-Out Solutions
Coming from home to a hospital bed can be disorienting and a big change for patients. Roll-out solutions provide a secure and supportive environment while the patient is sleeping by helping to define the boundaries of sleeping arrangements.
Low-lying Beds
Low-lying beds reduce the potential for injury. If a fall was to occur, this can be the difference between a small fright and a serious injury. Our beds can be raised for administering care at the touch of a button. They can be tilted to help patients get on and off the bed when needed. Each bed is equipped with an electric backrest, a knee bend, high & low and tilt function, control panel, and can be easily folded for transportation.
Why use falls prevention equipment?
Our fall prevention solutions offer a range of benefits for hospitals, aged care facilities and private homes that require enhanced patient care. Primarily, our solutions aim to preserve patients' safety and dignity, whilst quickly alerting staff with actionable information. They document intervention data to help improve processes and help busy staff prioritise patient duties. Our equipment is manufactured with the highest quality materials and workmanship to minimise the risk of injuries and possible legal ramifications.
How to book falls prevention equipment?
Keystone Healthcare offer affordable and convenient solutions for fall prevention. Whether you are a hospital, small facility, or private home, we can match our equipment to meet your needs.
Get in touch with us on 1300 547 877 for an obligation-free discussion. Our highly experienced staff will assess your facility's needs and organise a tailored solution to meet your requirements.
In relation to the falls alarms can you use the bed sensor on a chair?
Yes, either the bed sensor or the chair sensor can be used in either a bed or a chair. Sometimes it is better to put the sensor on the back of the chair rather than the seat - this will alarm as the individual bends forward prior to standing. Likewise, in a bed it is sometimes better to place the bed sensor at shoulder level to alarm as the individual sits up.
Can we track our falls performance with the falls alarms?
Proxi-Mate keeps an accurate 'log'; the previous 4000 events, including date and time. The most recent 100 events can be viewed right on the screen. In addition, the whole 4000 event log can be uploaded to a thumb drive. Proxi-Mate software helps prepare a number of reports. For example, comparing alarms with incident reports gives a clear indication of 'near misses' or falls. It also forms ' a 'base line assessment' which can help with planning the best times for nursing intervention.
Falls Prevention Safety Equipment.
Falls can occur at any age, in any setting, and are a leading cause of injury-related hospital admissions in Australia.
Healthcare facilities face the ongoing challenge to provide a safe and comfortable environment to both carers and patients alike. Falls happen abruptly, in a variety of situations; when patients become restless or distressed about their condition, when trying to mobilise themselves unaided, or when simply lose their balance. Falls are a hindrance to a patient's healing process and require costly additional care for those whose health is already compromised. It is vital that patients are supported at all times – for their personal wellbeing and benefit, and also to minimise the risk of possible legal ramifications for healthcare facilities.
At Keystone Healthcare, we understand the importance of fall prevention equipment and the integral role it plays in reducing injury, minimising both physical and legal risks, and protecting the wellbeing of patients. Because of this, our range of fall prevention solutions offer uncompromising patient care.
What we offer
Our falls prevention solutions.